This guide will show you how to update your health status using ChronicCareIQ.
Using Email Reminders
When you set up your ChronicCareIQ account, you will also be signed up for automatic reminder emails. These reminder emails will let you know when it's time to provide a new health status update, and also provide a link to easily access your questions.
To access your questions, simply click the "Update Your Status Now!" button in the email.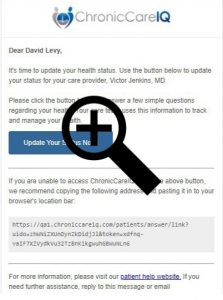 Not receiving email reminders? Click HERE for additional guidance.
Using a Web Browser
If you prefer to not use the automatic reminders, and would rather use a web browser to access your questions, simply follow these steps:
Open your web browser
Go to cciq.me
Log in, using your user name and password
Once you're logged in, your most recent health status questions will automatically be displayed.
Submitting Your Health Status Update
Once your questions are displayed, the next step is to answer them and submit your responses to your care team. Simply answer each question and press the Finished button to submit your responses.
Request a Call From Your Care Team
In many cases, your provider will give you the option to request a call from your care team as part of submitting your health status update. To request a call, select "Yes" when asked if you would like for a care team member to call you, and then enter your comments in the space provided.
Using this feature is the recommended way to send questions or comments about your care or monitoring, as your feedback will be delivered directly to your care team.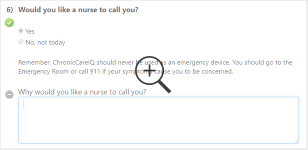 Confirmation
Once you've submitted your answers, you will see a confirmation message to let you know that your care team has received your update.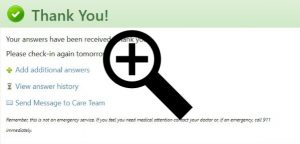 Additional Answers
In some cases, your physician may give you the opportunity to provide additional answers outside of your regular health status updates. To access these questions, use the "Add additional answers" link displayed on the confirmation screen.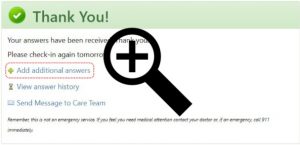 Note: if your physician has not provided additional questions, then the link will not be available
Answer History
You can view a history of your previous answers, by using the "View answer history" link on the confirmation screen. See the Features and Navigation guide for more details.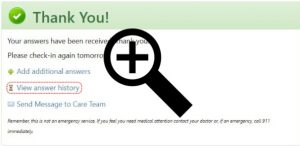 Messaging Care Team
You can send a message(s) to your care team by using the "Send Message to Care Team" link on the confirmation screen. See the Features and Navigation guide for more details.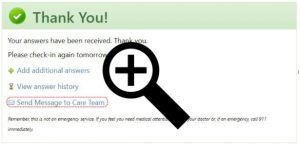 What's Next
Now that you've learned about updating your health status, you may also be interested in the following topics: