ChronicCareIQ offers a variety of features that will help you stay in touch with your care team, and stay informed about your care. This page will give a brief explanation of all the features that are available, and show you how to access them.
The Navigation Bar
The main hub for getting to all of the different features within ChronicCareIQ is the navigation bar. Once you have logged in, it will always be available at the top of the screen. The image above shows what it looks like. The remainder of this guide will go step-by-step, through the different parts of the navigation bar.
Note: The navigation bar will automatically adjust based on the size of your screen, and may not look exactly like what is pictured above.
Here's a brief rundown of all the available features:
Home – shows your most up-to-date health status
Information – view general information about your monitoring program and access documentation from your provider (i.e. Care Plan)
History – view details of your previous health status updates
Care Team – view names and available contact information for members of your care team
Send Message to Care Team – send a message directly to your care team and request a call back
My Account – view and change your personal preferences (contact info, notification settings, etc.)
Sign Out – sign out of ChronicCareIQ
Home

The Home page will let you know whether or not your care team has your most up-to-date health status. From this page, you can access your health status update history, if your status is up-to-date, or provide a new health status update, in case your care team doesn't have your latest update.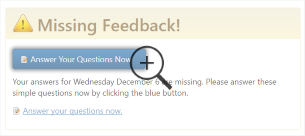 Information

The Information page will allow you to view the following:
Your care plan, if one has been made available by your provider
Any additional documentation that has been made available by your provider (i.e. a diet or exercise plan)
For patients participating in a remote patient monitoring program, you will also be able to view general information on the remote patient monitoring program and the usage of ChronicCareIQ.
History

The History page allows you to view detailed information about past health status updates that you've sent to your care team. Details can be viewed for each individual question, and for varying amounts of time. See the image below for an example of information that can be viewed on the History page (click or tap the image to enlarge it).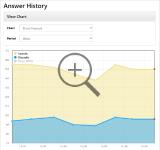 Care Team

The Care Team page will list the members of your care team, and will show any contact information they have chosen to provide.
Tip: if you view this page from a smartphone, you can tap on any phone number to automatically dial it.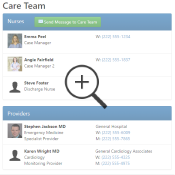 Send Message to Care Team
On both the Home and Care Team pages, you can send a message directly to your care team by pressing the "Send Message to Care Team" button.
Using this feature is the recommended way to send questions and comments about your care and monitoring program. Your message will be delivered directly to your care team along with a call back phone number, in case your care team needs to get in touch with you.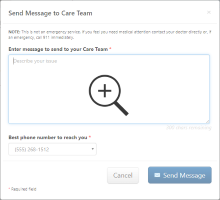 My Account
The My Account page allows you to change your ChronicCareIQ preferences. For a more detailed look at all of the different preferences you can change, see the "Changing Preferences" guide.

Sign Out 

The Sign Out link will sign your account out of ChronicCareIQ, and return you to the log in page.
What's Next?
Now that you've familiarized yourself with the different features available in ChronicCareIQ, perhaps you'd be interested in some of the following topics: